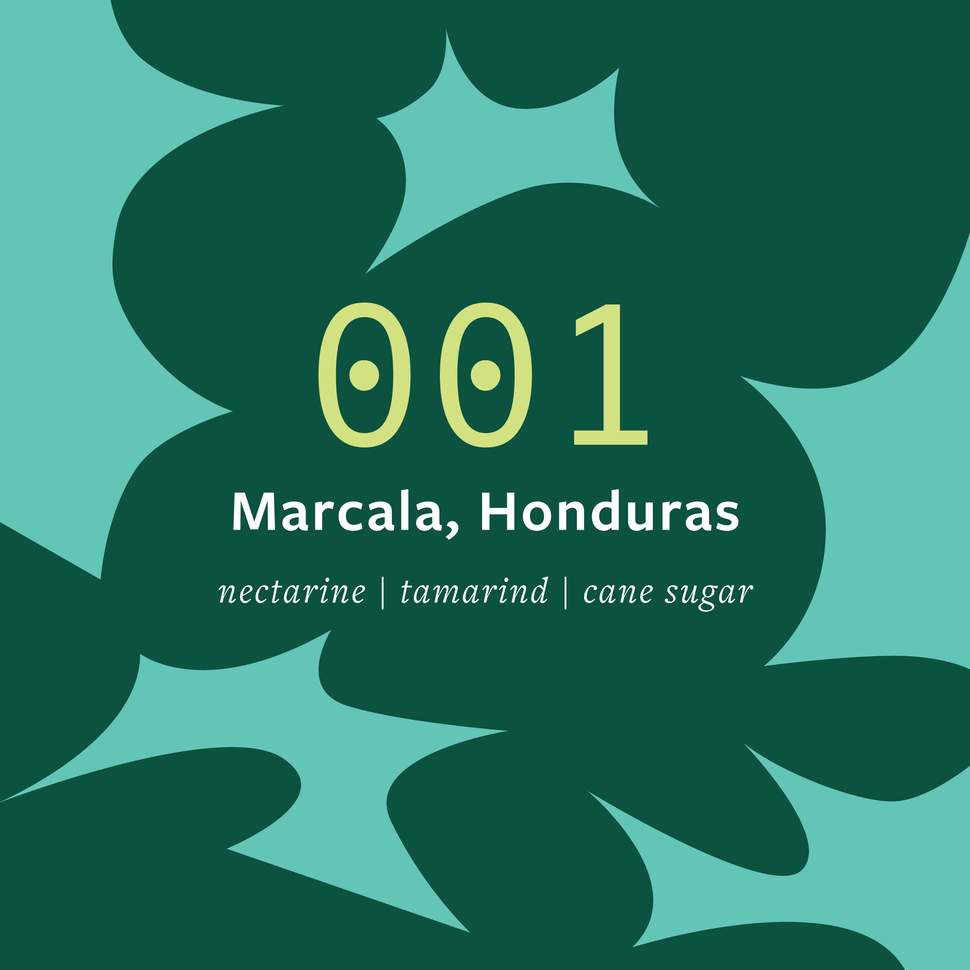 GEM 001 is equal parts of three African varieties grown at Finca el Puente in Marcala, Honduras. Each variety has interesting attributes, yet when blended together, GEM 001's components create an exquisite and complex cup. Lush aromatics of stone fruit waft from the cup, inviting you to taste. Take a sip and a burst of nectarine greets you, giving way to the complex, slightly savory flavor of tamarind. Juicy yet soft, this coffee fills your palate with the sweetness of raw cane sugar.
Finca El Puente is owned by third-generation coffee farmer Marysabel Caballero and her husband, Moisés Herrera. Raised in Guatemala and trained as an accountant, Moisés moved to Honduras in the 1990s to manage the operations of a coffee company. It was there that he met and married Marysabel, and together they established a coffee farm in Chenacla. 

Since the inception of their farm—Finca El Puente—the couple has dedicated themselves to producing the highest-quality coffee possible. On it, they grow rare coffee varieties under unique conditions, test experimental processing techniques, and generally push every aspect of coffee production to improve the coffee and the farm itself.
Finca el Puente's Variety Garden
Amidst Finca El Puente's sprawling coffee fields, Marysabel Caballero and Moisés Herrera's variety garden––one of the most extensive and diverse in the world––embodies the promise of growth and beauty. Years of research have led them to cultivate top-quality varieties.
Gesha

Gesha is an Ethiopian variety, selected from the Gori Gesha forest in the southwestern part of the country. The variety was originally collected from coffee forests in Ethiopia in the 1930s and then distributed to Panama in the 1960s. Gesha coffees are very highly valued because of their rarity, production costs, and flavor. This coffee is light, bright, and floral, with tea-like characteristics not usually found in coffee.

Read more about GEM

SL28

SL28 is among the most well-known and well-regarded varieties of Africa. First identified in Kenya, there are many SL28 trees in the country that are 60–80 years old and still productive. Known for grapefruit-like brightness, savory flavor similar to sundried tomato with a syrupy body. While variety may not tell you everything, it has a significant impact on coffee flavor and it might be something that can help you find your next favorite!

Read our varieties blog

Java

Java takes its name from the Indonesian island where Dutch colonizers cultivated the variety in the 19th century. Taken directly from Ethiopia, Java is a regional landrace variety from coffee's indigenous zone. This variety rests lightly on the palate, giving notes of soft citrus and light floral aromas.

Read more about gem