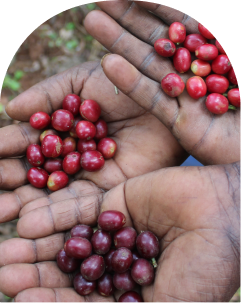 Traceable from Seed to Cup.
We believe we can make a positive impact on coffee's future through our everyday commitments to quality, sustainability, education, and transparency.
Quality

We set the standard for the best coffees by driving innovation at every step of the supply chain.

Sustainability

We take action to invest in the environment and people through collaboration, communication, and transparency.

Education

We cultivate and exchange knowledge to empower people to create extraordinary coffee experiences.
From Co-Founder + President Brett Smith...
In 1996, my business partner Fred Houk and I attended the Sustainable Coffee Congress, hosted by the Smithsonian. Over the course of three days, we shared thoughts with more than 250 other members of the coffee community about building sustainable supply chains. The conversation resulted in agreement that a sustainable future for coffee meant that the coffee industry must address its environmental, social, and economic issues. This was my introduction to triple-bottom-line sustainability, and the foundation of my business philosophy.
This conference helped me realize that a focus on sustainability is not charity. It's not just about the environment. It's the best business model for Counter Culture to embrace for long-term success. We can choose profitability and sustainability, and to view those concepts in opposition to one another is a false duality. I firmly believe that business decisions made through the lens of sustainability result in greater profitability over an extended period of time.
To build Counter Culture through the lens of sustainability, we included these ethos in our vision statement. By clearly stating that "Counter Culture is committed to real social, environmental and fiscal sustainability," we affirmed our commitment to these principles. We use the lens of sustainability to filter decisions about our coffee supply chains, our employee benefits, the building materials used in our facilities, and much more.. This balance of profitability and sustainability has resulted in over 25 years of consistent growth, an incredibly deep and wide supply chain, an inviting and engaging company culture, excellent customer loyalty, national brand recognition, and more than 15 years of quarterly profit sharing.
Transparency is a critical component of achieving our sustainability goals. At every turn, we aim to create mutually beneficial partnerships. Whether the focus is financial, environmental, or based on risk mitigation, a commitment to open, honest communication ensures a better outcome.
We will never reach a finish line in our journey toward sustainability. The pursuit of a sustainable business means we will always push for more environmentally-friendly coffee, less waste, stronger relationships, and longer-term solutions to the challenges we will face. The pursuit of sustainability helps us be a better business today and promises that we will become a better business tomorrow.

Brett Smith
President